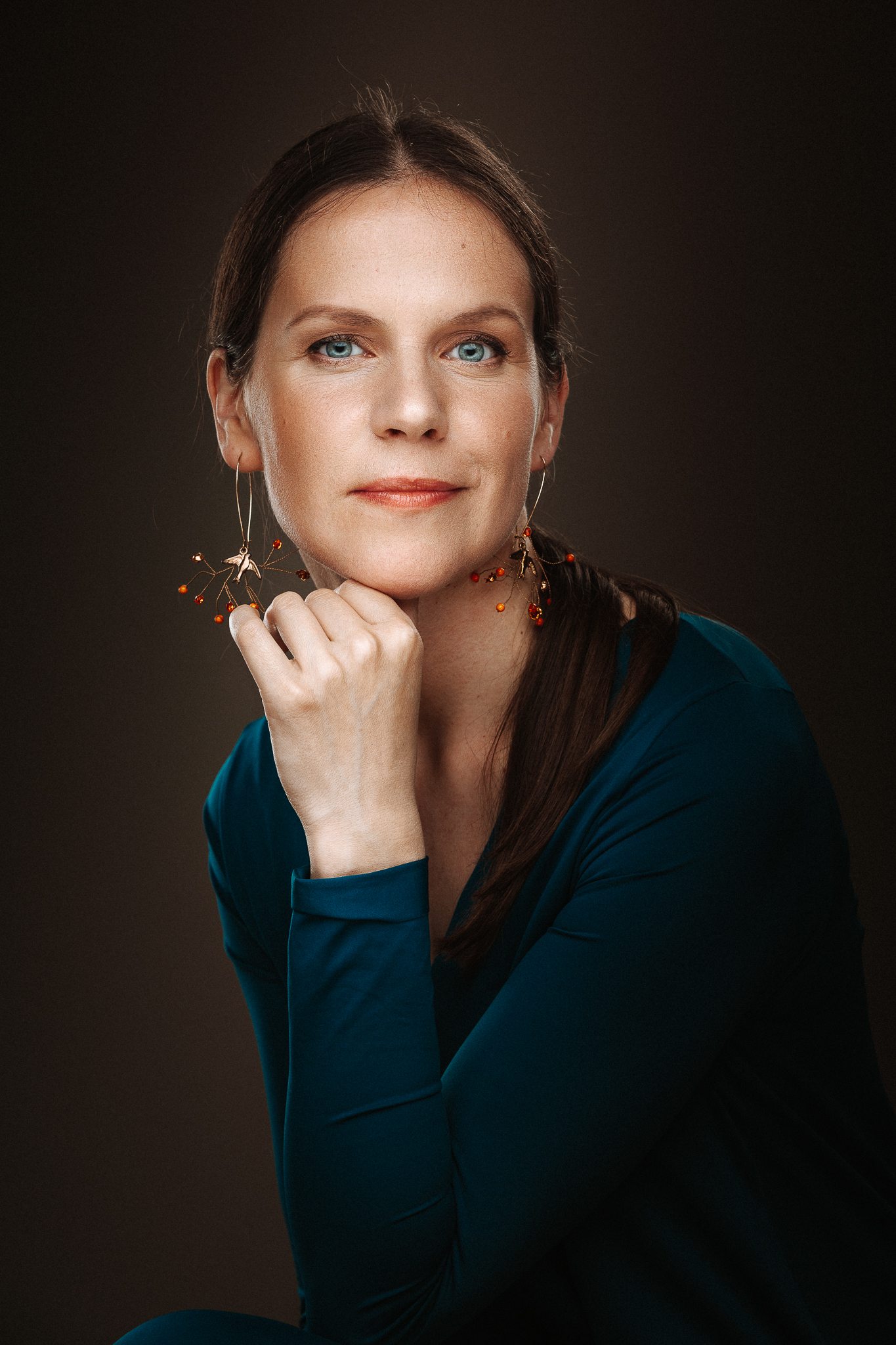 My name is Dana Indāne – Surkienė, I am Latvian, born in 1983 in Latvia and recently moved to Lithuania with my family. I am a wife and a mother of two beautiful children. For the last 15 years I have been consistently exploring the voice and body work through natural voice work,  free improvisation, therapeutic practices, psychology, meditation, performing arts and teaching.
My creative musical life began in early childhood and through the last 30 years it has manifested in various interdisciplinary projects in music, theatre and performance art. At present I perform contemporary free improvisation, meditative improvisations, Latvian traditional songs, accompany theater performances and sing my own compositions.
Together with throat singing and beat box performer Arvis Kantiševs I do voice improvisations and ethnic singing in our duo musical project "Balssbalss" ("Voicevoice"). I've been a part of a contemporary improvisation trio "O", collaborated with Nils Īle Percussion studio, singer Charlie Vasquez and since 2010 I have been a frequent participant in multimedia projects of the performance artist group "Ideagnosis".
I have master's degree in Contemporary Improvisation at the Estonian Academy of Music and Theatre (2015), master's degree in Theatre Arts at the Latvian Academy of Culture (2011). In 2005/2006 I took a course of one-year studies of Performance Design at Roskilde University, Denmark and before that I got my bachelor's degree in Intercultural Communications at Latvian Academy of Culture (2005). Besides that in 2016-2018 I took various courses at the Institute of Transpersonal Psychology in Riga.
Alongside my academic studies I have been exploring various alternative approaches of the voice and body work under  guidance of recognized voice professionals with diverse national and theoretical backgrounds (Kefas Berlin, Inga Laizāne, Pratibha de Stoppani, Zane Šmite, Anne-Liis Poll, Anne Turnpu, Ingūna Švāne, etc.). I have discovered a lot of voice and body related techniques (1st and 2nd level training of Estill voice training,  basics of Alexander Technique, Butoh dance etc. ) and healing voice work through multiple meditation practices and studies in transpersonal psychology, as well as through my personal experience.
I have been honored to teach contemporary improvisation at Jāzeps Vītols Latvian Academy of Music and to be a guest lecturer at the University of Latvia, Riga Business School and Riga Stradiņa University and the Latvian Transpersonal Educational Institute. For the last 9 years I have actively facilitated voice opening workshops in Latvia and abroad, often within the framework of the European Transpersonal Psychology conferences, international music, meditation and yoga festivals. In my masterclasses, I share my knowledge in guiding people towards the discovery of the vast potential of their voice.
Alongside my creative endeavors, over 15 years, I have actively been participating in organizing various international art, culture, meditation, transpersonal psychology and social awareness events, conferences and festivals.
For those interested, please find more details here: CV Dana Indane Surkiene 2021
Profile photo by Amalija Andersone